Gain greater insights before your interview!
The Pre-Interview questionnaire is a series of questions that allow you to learn more about the candidate prior to the interview. It asks them to provide information related to their job preferences, career goals, how to best manage them, what frustrates them, and what their key motivators are.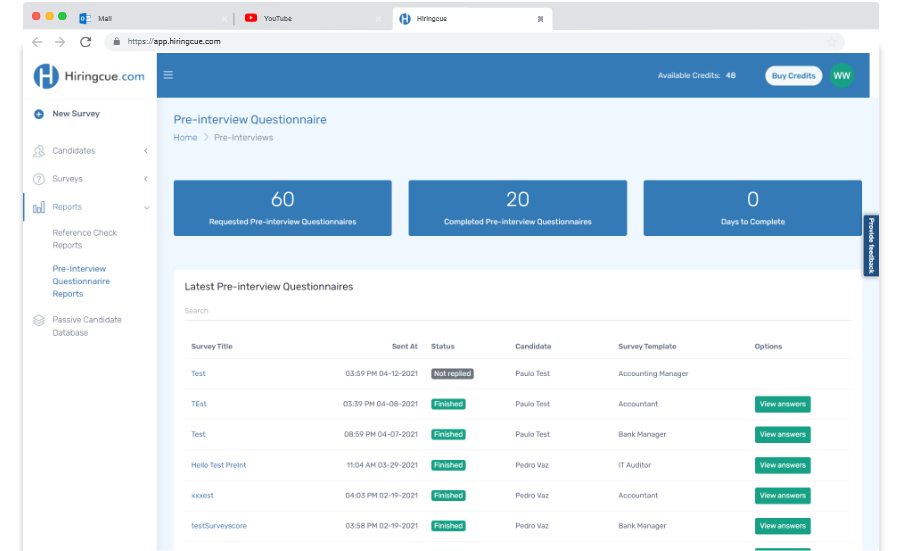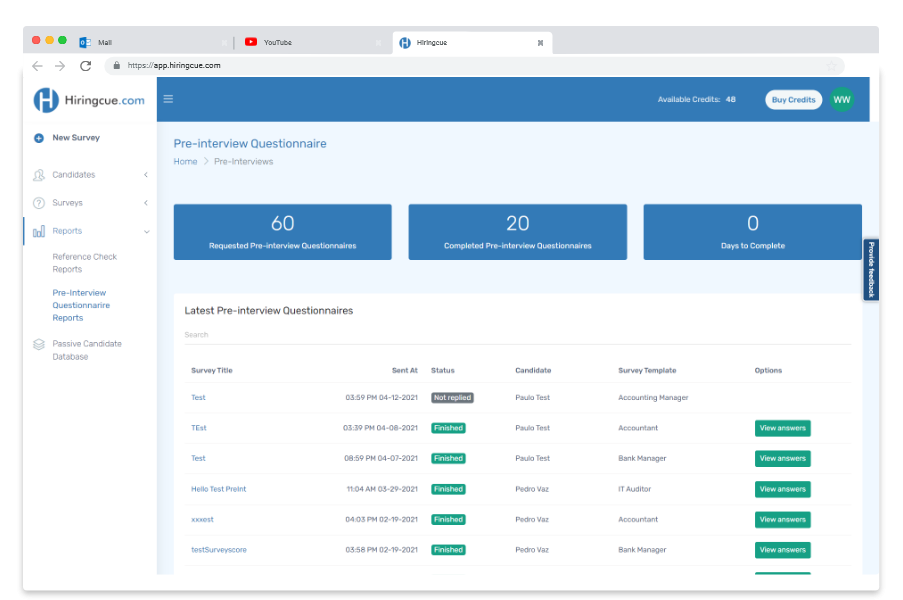 Benefits
Pre-Employment Questionnaire
Reduce the amount time that managers and recruiters must spend in interviews.
Allows you to reduce the number of interviews by pre-qualifying your candidates.
Gives you insight into what types of activities the applicant values the most.
Allows the candidate to provide additional information and provide information specific for the job.
Choose from our library of pre-interview screening questions or make up your own questions.
Pre-interview questionnaires are used by employers to get further information about a job applicant before the job interview. Qualify the applicant before you waste your time or theirs only to discover they do not have the right skills for the job.
Gather more information about a candidate's interests, expectations, and preferences in order to help better determine if they are a "fit" for the job, the manager, your culture, or your company.
In addition to asking questions, Hiringcue users often include information that will be necessary for the upcoming interview in the questionnaire. This information may include details on what to wear to the interview, directions to the office, and the materials you will need to bring.
Why Use Pre-Interview Questionnaires
Pre-interview questionnaires allow you to gather more information about the applicant than what is provided on their resume. The goal of the questionnaire is to find out if you are a good fit for both the job and the company, as well as to ask questions that might not be asked during the interview.
Save Time
It saves you time because you will have some of the information needed to make a hiring decision in advance, which leaves more time for other questions during the actual job interview.
Discovery
Discover whether or not the applicant will fit in with your company's culture and managerial style. Find out what motivates the applicant. Do they have long-term goals, and are they appropriate for the position to which they're are applying?
Reduce the amount of time your managers and recruiters spend on interviews. focus on identifying information about the candidate that is generally not in their resume or that is seldom discussed during interviews because of time limitations.
However, some users also include some actual interview questions in the questionnaire in order to reduce the time required for formal interviews. Quickly identify candidates that meet your job requirements and core competencies.
Resumes received from job ad – 50

Resumes you are interested in – 20

Interviews qualified with Pre-interview survey – 7
With our Pre-Interview Questionnaire
Without our Pre-Interview Questionnaire